The picture above just earned me my latest feature. This makes FOUR features for my little blog!! I am beyond excited, because I have even more projects in the works... and pretty awesome ones too, if I do say so myself. Thanks so much to the gals at Natural Nesters for their second time to feature me!! I wanted to include the sweet little note they had in their feature post...
"Ashley @ Keeping Up With the Joneses
just gave me the recipe to my son's heart's desire. He LOVES corn. Last weekend was his first time to have a full, grilled corn. I am so excited to try this corn recipe out for him. The pictures she has with the steps make my mouth water.. you should definitely go check it out. She has a lot of other neat ideas on her blog too.. Check her out."
I'll include a link to their entire post
here
, so you can check out the other features.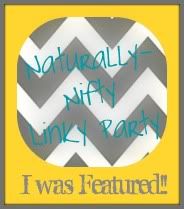 This just makes my day! I told Zach we would have to have a celebratory grilled corn-on-the-cob sometime this week. :)