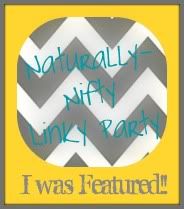 I have now been featured for a third time in my little blog's life!!
I am beyond excited, and definitely motivated to keep working on new projects! Just wanted to thank the two sisters at Natural Nesters for thinking enough of my sweetie's
yard facelift post
to feature it from their link party. Their feature blog post is
here
- check it out!! They have also pinned my pictures of the yard facelift on Pinterest, so I hope to gain new followers there! I am so very proud of Zach & his hard work, and I can't wait to finish up
and post on Part 2.
For now, I'll leave you with this cute little pic of the kids :)...
Hope you all are having a great week! This one is a little busy for me, but it's all fun stuff. Last night, I went to a women's dinner at my church, and it was wonderful. Tonight, I'm getting my hair done (blonde again= yay!), and tomorrow night is choir rehearsal as usual. Then, Thursday night, I'm going to a college play with my momma- Fiddler on the Roof- can't wait! Friday night, I might actually get to spend at home with my sweetie with no plans. On Saturday night, we have a couple's shower for Zach's (and my) cousin, that we're really excited about!
I'm not too sure about Zach, but I love wedding season, and it is definitely here! Also, in my little circle of friends, it's obviously baby season right now, so how much more exciting can it get?? :)